István Urák, PhD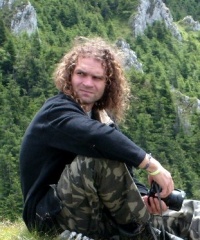 Associate Professor, Head of Department
E-mail: istvan.urak@milvus.ro
Web: http://urak.adatbank.transindex.ro
Fields of research:
arachnology
faunistics
ecology
Courses:
General Ecology (BSc)
Zoology (BSc)
Biogeography (BSc)
Nature and Envrionmental Protection (MSc)
CV and list of publications (2019)
Important recent publications:
2020
Korponai J.L., Kövér C., López-Blanco C., Gyulai I., Forró L., Katalinic A., Ketola M., Nevalainen L., Luoto T.P., Sarmaja-Korjonen K., Magyari E.K., Weckström J., Urák I., Vadkerti E., Buczkó K. 2020. Effect of temperature on the size of sedimentary remains of littoral chydorids. Water 12: In Press. (IF: 2.544/2020, Q2).
Szinetár C., Kovács G., Urák I., Gajdos P. 2020. Synanthropic spider fauna of the Carpathian Basin in the last three decades. Biologia Futura In Press. https://doi.org/10.1007/s42977-020-00009-5 (IF: -/2020, Q4).
Zsigmond A.R., Kántor I., May Z., Urák I., Héberger K. 2020. Elemental composition of Russula cyanoxantha along an urbanization gradient in Cluj-Napoca (Romania). Chemosphere 238: In Press. (IF: 5.778/2020, D1).
Fiera C., Ulrich W., Popescu D., Bunea C.-I., Manu M., Nae I., Stan M., Markó B., Urák I., Giurginca A., Penke N., Winter S., Kratschmer S., Buchholz J., Querner P., Zaller J.G. 2020. Effects of vineyard inter-row management on the diversity and abundance of plants and surface-dwelling invertebrates in Central Romania. Journal of Insect Conservation 24: 175–185. (IF: 1.553/2020, Q1).
2019
Gallé R., Samu F., Zsigmond A.R., Gallé-Szpisjak N., Urák I. 2019. Even the smallest habitat patch matters: on the fauna of peat bogs. Journal of Insect Conservation 23: 699-705. (IF: 1.330/2019, Q1).
Korponai J., Braun M., Forró L., Gyulai I., Kövér C., Nédli J., Urák I., Buczkó K. 2019. Taxonomic, functional and phylogenetic diversity: how subfossil cladocerans mirror contemporary community for ecosystem functioning: a comparative study in two oxbows. Limnetica 38: 431-456. (IF: 0.574/2019, Q3).
2018
Zsigmond A.R., Varga K., Kántor I., Urák I., May Z., Héberger K. 2018. Elemental composition of wild growing Agaricus campestris mushroom in urban and peri-urban regions of Transylvania (Romania). Journal of Food Composition and Analysis 72: 15-21. (IF: 2.956/2018, Q1).
Tölgyesi Cs., Bátori Z., Gallé R., Urák I., Hartel T. 2018. Shrub Encroachment Under the Trees Diversifies the Herb Layer in a Romanian Silvopastoral System. Rangeland Ecology & Management 71 (5): 571-577. (IF: 1.94/2018, Q1).